Disclaimer: There are affiliate links in this post. At no cost to you, I get commissions for purchases made through links in this post.
My oldest son got married last night… just before the new year was rang in! He and our new daughter had plans to be married this coming August, but we got a surprise call about a little ninja peanut that had decided to be coming into the world this Spring! They found out that the flu Jade thought she kept fighting had actually been morning sickness, and they are now about 26 weeks along! It was so crazy to not only find out we are going to have another grand baby, but that it's a baby GIRL all in the same day!! Since they already had plans to be married later this year, they decided not to wait. Plans got underway for a courthouse wedding…
Then I thought *maybe* we could make it a TEENY bit more special than just meeting at the courthouse, by having a family member that is ordained marry them at my mom's house…
Ice cream cake from Dairy Queen, that I decorated for the kids!
In a matter of a couple weeks, we had a simple wedding ready. Just the two of them, with brothers and sisters as best man and maid of honor. In my mother's living room… It was a beautiful little ceremony.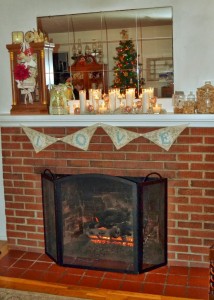 My mom's mantle, decorated for the wedding re purposing a wedding banner she made for my sister's wedding!
It was nice to have such an intimate event, but the kids also hope to host a larger "everyone we would have LIKED to invite" event in August too. I look forward to sharing that with our loved ones that wouldn't have fit in mom's living room!!
My three kiddos. I can't believe how fast time flies…
Some photos from the night…
The paparazzi were out in full force…
Anita

says

January 2, 2014 at 2:48 am

Congrats! My youngest Grandboy is 8. I envy you. Nothing like a fresh baby…Sniff her head for me…I know heaven must smell like a newborns head.

Rachel Whetzel

says

January 2, 2014 at 3:18 am

Thank you, Anita!! I will be sure to take extra sniffs for you!! I love fresh baby too.

Luba Briginets

says

January 2, 2014 at 4:51 pm

Congratulations! They are beautiful couple!

Diane

says

January 2, 2014 at 5:43 pm

Congrats To your son and his lovely new bride. Oh, and cograts to you being a new grandma

~Diane

Rachel Whetzel

says

January 2, 2014 at 7:13 pm

Thank you, Diane! I'm actually already a gramma! Ian has a two year old daughter! (this is Jade's first biological baby) I love being a Meema. Can't wait for baby number two!

Chris

says

January 3, 2014 at 2:24 am

Hi Rachel, just stopping by to say how delightful your blog is. Thanks so much for sharing. I have recently found your blog and am now following you, and will visit often. Please stop by my blog and perhaps you would like to follow me also. Have a wonderful day. Hugs, Chris
https://chelencarter-retiredandlovingit.blogspot.ca/

Seth

says

January 3, 2014 at 5:01 pm

Wow. How exciting. Congratulations to the whole family!!

Debbie Hamm

says

January 5, 2014 at 7:28 pm

Congratulations Rachel to the new additions to the family! Pretty wedding too.

Parabolic Muse

says

January 6, 2014 at 6:53 pm

This is so great! How fun. Congrats to them. And you!

Leanne E

says

January 14, 2014 at 1:23 am

Congrats to all of you