There are numerous ways to personalize a headstone either for yourself or for a loved one who has passed. From shape to inscriptions, it is easy to leave a personal touch on a headstone.
Colour
Granite is available in a variety of colours, so you can choose a favourite colour or one that is more unique if you want your headstone to stand out. You can also mix and match different colours for the base, stone, accents, sculptures, etc. to create a personal aesthetic.
Shape
There are unlimited shapes to choose from for your headstone. From a car to an angel to a bench, you can request your headstone resemble an important aspect of your life, your beliefs, and your personality. If you want something simpler, you can request a heart, a natural stone, a cross, or a simple adjustment to the classic rectangle shape that most headstones resemble. You can also adjust the base for more creativity and expression.
Design and Layout
You can choose how to display your information, epitaph, inscribed images and symbols, and anything else you want on your headstone. There are hundreds of design components that can be customized to your life. Plus, you can choose to decorate both sides of your headstone rather than a single side.
Text, Personal Details, and Epitaphs
From your name to your epitaph, the text on your headstone can be customized and stylized any way you wish. The most popular epitaphs are "Rest in Peace," "Loving Mother and Wife" or some other variation of personal identifiers, and "Lovingly Remembered." If you want something more unique, you can choose a personal saying or signature phrase. Many people also choose to list children, grandchildren, and spouses on their headstones.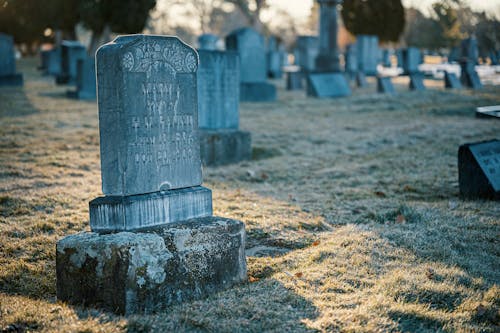 Accessories
When personalizing your headstone, you don't only have to think of the headstone itself. You can add accessories such as lighting in the form of solar inserts or lamps, flowers in a vase, photographs, ornaments and statues, and even a QR code that links to a personal tribute page.
Base
The base is often an overlooked aspect, but it is just as important as the headstone itself. You can match colours, customize the shape, add engravings, and more. The base of your headstone can even act as a connector between your and your child's or spouse's headstone for a double monument if you wish to be buried together.
For more information about customizing your headstone, click here.