WELCOME!!
It's time for the Creative Paperclay® HALLOWEEN LINK UP PARTY! Two years ago, I created a BAT WING for a piece of art. Later, I made a mold with the piece, so that I could create more bat wings that looked the same. I used one of those piece in this new Halloween decoration I created using the bat wing, and a vintage BINGO card.
I used some distressing inks to add some Halloween grunge to the BINGO card.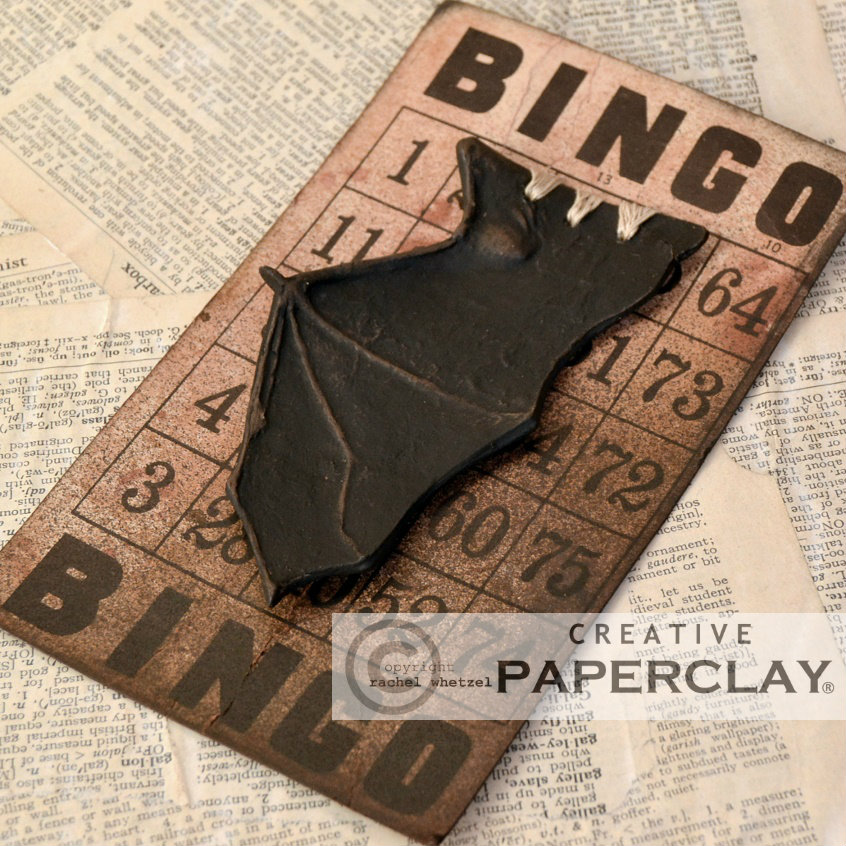 and after putting some holes into the wing using a very small drill bit, I sewed the wing to the card with some vintage string.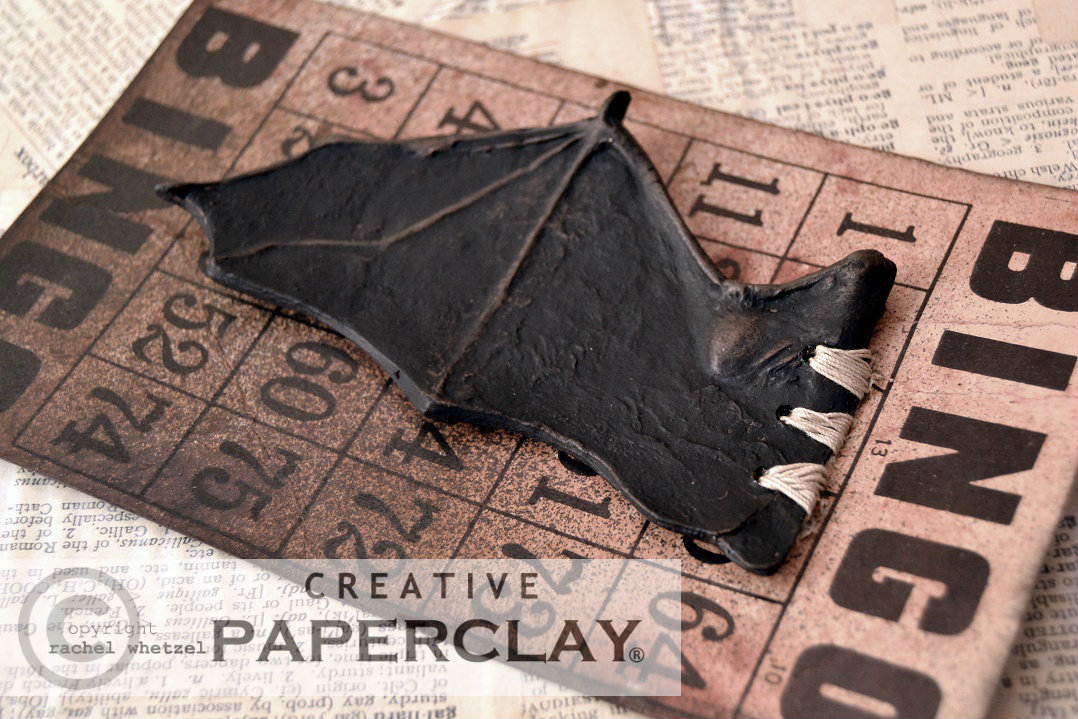 I really like the simplicity of this piece, and it adds such a cute detail to my spooky Witch's Apothecary display!
What kind of Halloween ideas do YOU have using  Creative Paperclay®!?
Hop over to the Link up party, and add your link to share it! Entering your  Creative Paperclay® project will win you a package of  Creative Paperclay®, and enter you to win the BIG package! Who doesn't love THAT idea!?
Thanks for reading! If you'd like to keep up with me, and see more of what I'm up to, I'd also love it if you'd Subscribe! You can also find me on FACEBOOK, or click on any of my social networking logos at the top of my blog to find where YOU are!
darla

says

October 6, 2014 at 6:18 pm

I love this project. Simple, but beautiful and can compliment any decor theme. I am a new follower

Rachel Whetzel

says

October 6, 2014 at 8:09 pm

Thank you, Darla!! I appreciate the love!

Cynthia McCoy

says

October 7, 2014 at 2:34 am

Love this. The wing is amazing!!

bygloricom

says

October 7, 2014 at 10:33 am

Love the effect of the wings they look so realistic. Luv it !!

Donna

says

October 7, 2014 at 9:47 pm

I LOVE your bat wing! So AWESOME!

Love to give that a try!

Caroline

says

October 9, 2014 at 9:01 am

Love the wing and the vintage distressed look!

Joe Rotella

says

October 13, 2014 at 10:05 am

Wonderful! Simple, clean – just "dark" enough – love it!

Carol

says

October 13, 2014 at 10:05 am

Awesome, thank you for sharing!