OOAK Steampunk Skeleton Mixed Media Art Doll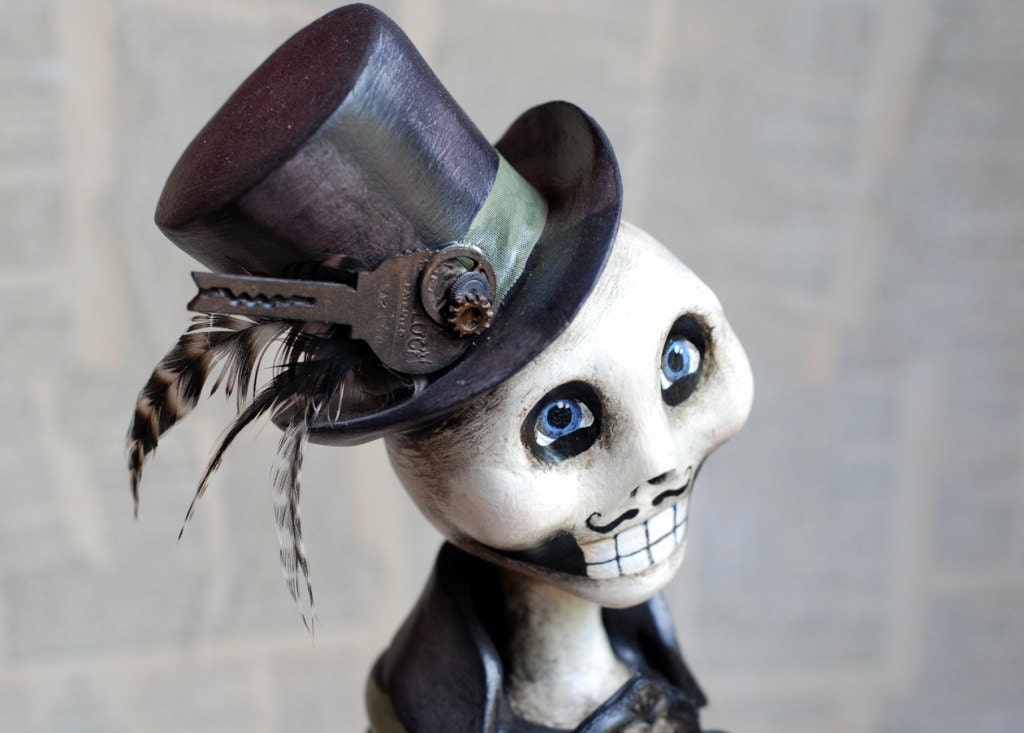 $300.00 USD1 availableBuy Now One of a kind Art Doll, built on a chunky, wooden candle stick base, Skell's face and top hat are hand sculpted with Creative Paperclay®. His door plate chest was also hand made using a mold from a vintage door plate I own, and the casted with resin. It is also hand painted. The key and gears decorating his top hat were also created in the same way. The feathers in his top hat picked up from my yard after my rooster shed them. On his base, a lace mold was used to create a lace effect, along with Creative Paperclay®. Skell stands approximately 17 and 1/2 inches tall. The entire piece is hand painted using acrylic paints, and sealed with Krylon Matte Artist's finish paint.
Mr. Skell E. Tonne is a French Missūre, as his mustache would indicate. His once fine clothes now show some age and wear. He is a traveled man, looking for a place to rest his weary bones. He would love for that place to be in your home.
All of my dolls come with a signed tag of authenticity on them.
Ships from United States
ship tocostwith another item
| | | |
| --- | --- | --- |
| United States | $15.00 USD | $15.00 USD |