Redecorating can be a fun way to change up the flow of your home and adapt it to reflect your experiences, evolving tastes, and personal style. However, there are common mistakes made that can make your home look cheap instead of artfully decorated, so we've gathered some décor decisions that we suggest you avoid.
Mass Produced Art. Instead of purchasing artwork that is commercially produced and readily available at stores like Walmart, look instead to purchasing original pieces directly from a local artist, through sites like Etsy, or even make your own wall pieces.
Busy Entryway. Since this is the first space that guests will see when they enter your home, it is a good idea to keep it organized and clutter-free. Some tasteful artwork and an unobtrusive bench if you have the room should be all the decoration you need in this space.
Overdone Themes. Nothing can make your home look cheaper than emulating a motel's theme mistakes. Instead of overemphasizing a style, invest in more subtle expressions to retain the elegance and inherent spark of your home. Matching furniture can create this effect too, so try to pick unique pieces that can add some personality and interest.
Poorly Fitted Rug. A rug is often at the center of your living space, so this can dramatically change the aesthetic if it does not fit the space properly. Rugs that are too small look like they are floating in the space and actually dampen the overall appeal. Rugs that are too large make the space feel full instead of open and inviting. Aim for a rug that fits underneath all of the main furniture in the room without extending beyond the boundary they set.
Empty Walls. While the wrong wall hangings can cheapen the look of your home, bare walls can create the same effect. This takes minimalism to a whole new level, and it's one you should avoid. Choosing unique, meaningful artwork is a quick and budget-friendly way to elevate the appearance of your space.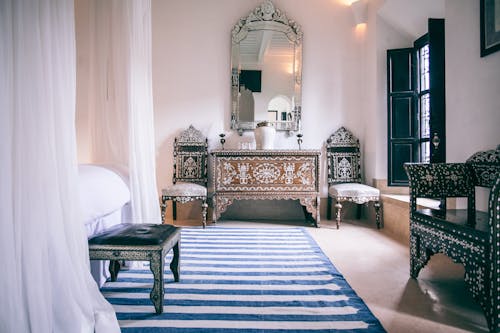 For more decorating tips, check out Flaunt Interiors.